Scott Robson
Mortgage Agent
Looking for a mortgage? Maybe it's time to refinance. Whatever the case may be I can help. My name is Scott Robson and I am a Mortgage Broker with Northwood Mortgage. What that means is that I have been in the industry for over 3 years and have completed additional courses to increase my knowledge in the field.
I pride my self on always listening to every side of the story be it that you are self employed, first time home buyer, looking to refinance or maybe you owe money to the CRA. What ever the case I am here to help and listen.
To learn more about me and to read my client testimonials please visit my website.
I look forward to helping you with your mortgage.
Website: www.callscott.ca
Facebook: https://www.facebook.com/Scottmortgagemanrobson
Twitter: @mightymortgage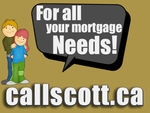 Contact Information
7676 Woodbine Avenue Suite 300 Markham, ON L3R 2N2
Subscribe to Ratewatch &Our Mortgage Newsletter
Testimonials
View All
I just want to thank you once again for your understanding service in securing me a mortgage that even my own bank would not consider and I had been with them for over 40 years. What is disturbing is that even if you have been with your bank for eons and never missed a payment for any loan you...
Yours Sincerely, D.R